So, yesterday I received a package from Georgia, USA. My Transdesign package stuffed with nine (9!!) new gorgeous nailpolishes! I was soooo happy when it finally arrived. I wanted to polish my nails yesterday, but was too lazy to do it. Sooooo after this afternoon shopping with my friend, I polished my nails with
Opi Ink Suede
. And it is really gorgeous! I can recommend to you all, that if you are really into blue, purple and matte, you should get this polish.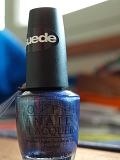 Opi Ink Suede is a one of a kind polish (in my opinion). It's a matte, but with a little touch of shimmer in it. The colors are great, it's a dark denim color with a shade of purple in it. Classy and original. You've gotta love it.
This was in my TD package: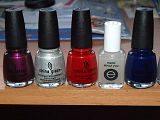 From left to right:
CG Stella, CG The Ten Man, CG Sacred Heart, Essie Matte about You, CG Calypso Blue.
From left to right:
CG Recycle, OPI Ink Suede, CG Atlantis, OPI Merry Midnight